Robert K. Henderson
(Caged in a frame? Click here to bust out!)
Freelance Writer, Editor, Translator, and Photographer
See my résumé and samples of my published work.
Search this site.
---
Welcome to my homepage!
My articles on self-sufficiency, ethnobotany, rural history, amateur radio, and linguistics appear in newsstand publications such as The Herb Companion, QST, The Beaver, Countryside, and many others. My essays, articles, and recipes are included in anthologies such as The Herb Tea Book and the university linguistics text Exploring Language, as well as web pages such as Care2.com. I also contributed a column called "Our Herbal Heritage" to The Herb Companion and another on language and linguistics for Suite101.com.
In 2000 Chelsea Green released my first book, The Neighborhood Forager, the complete guide to suburban wild edibles (see box below ). Today I am at work on my second book, on First Nations agriculture.
You may have heard this URL on the radio, as I'm a frequent guest on the CBC, NPR, and private radio stations around the continent. (Complete audio files of my appearance on the CBC's Basic Black and the two-part series I did with the CBC's Elias Abboud are available online.) You might have come here by way of a magazine or newspaper article, as stories about my work have run in the Globe and Mail, The New Yorker, the Associated Press, and many local papers across Canada and the US.
However you happened on this site, I hope you enjoy your visit.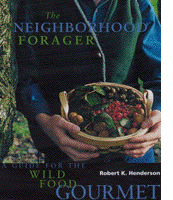 Want to get closer to nature, but live in the city or suburbs? With The Neighborhood Forager: A Guide for the Wild Food Gourmet, the complete guide to over 60 edible plants common to urban and suburban environments, even suburbanites and city dwellers can enjoy the healthy, tempting wild foods that grow just beyond their front door. Mystify and delight your guests with such delicacies as Walnut Pickles, Japanese Maple Leaf Salad, Elderflower Champagne, and many more. More than a traditional field guide, The Neighborhood Forager is profusely illustrated with black and white illustrations and colour photos and includes historical and environmental anecdotes, technical tips drawn from the author's lifetime of foraging experience, and 40 delicious, kitchen-tested recipes.
For a taste, see the table of contents, recipes, and excerpts available right here on this web site.
See also Independent Publisher's review of this book, one of many available online and in print.
Signed copies, including personal dedication, are available from the author for $24.95 (the regular retail price) plus shipping. Just e mail me!
The Neighborhood Forager is published by Chelsea Green, publishers of timely, readable books on healthy living, self-sufficiency, and environmental issues.
Also available from your local bookstore, Barnes & Noble, Chapters.ca, the Real Goods catalogue, and Amazon.com.
---
Robert K. Henderson
1757A Route du Nord
Chatham, Québec
Canada J8G 1E2

Phone: 450 533 1113



Email: rkhen@softhome.net

Last update: 25 July, 2003.






FastCounter by bCentral
---
Robert K. Henderson, Writer
https://members.tripod.com/rkhen/